Best Bounce House Rentals in Tacoma and Western Washington
Merry Makers: 30 years and still standing
While 2020 & 2021 were a bust in our industry and we lost some good competitors, we are hopeful 2022 will get better for everyone.  We are still delivering the much needed fun and distraction from the pandemic: Bounce House rentals, Water Slide rentals, Mechanical Bull rentals and more throughout the Puget Sound region.   We're here to help. Stay healthy!
---
Company Events
Make it memorable with Merry Makers.  Whether your event is a company picnic, customer appreciation day, employee team building activity, product promotion or corporate meeting, we have the experience and the resources to make your event a success.  We have corporate quality indoor and outdoor amusements designed to entertain your guests, build community and enhance employee satisfaction. You can count on Merry Makers for your success!
Church & Community Events
Play and interaction are a vital part of community building.  Churches, festivals, non-profit organizations and other groups have seen the benefits of creating a fun atmosphere for their guests.  Merry Makers inflatable and party rentals are like a huge welcome sign to draw crowds to your community event.  Include performers like airbrush face painters and balloon twisters for the personal level of entertainment.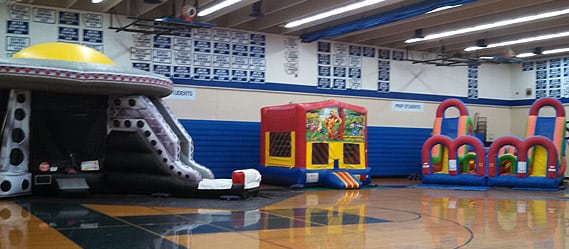 School Events
Planning a school carnival, field day or graduation party just got easier with our huge selection of party games, services and concessions.  In addition to our popular inflatable attractions, we also offer NON-RIDE inflatables and equipment rentals like the huge Fun House Maze, 9-hole mini golf and sports games.  We'll help you meet your budget and select the appropriate equipment.  Rest assured, our equipment has passed the Washington State inspection, we carry liability insurance and our crew members have passed a thorough background check.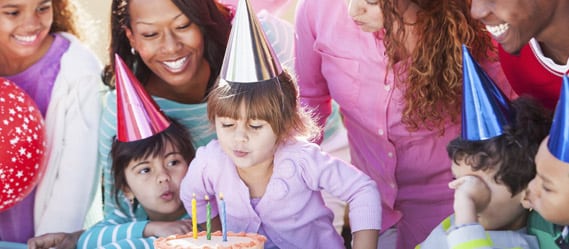 Celebrations & Social Events
We're all about celebrating life's moments. Certainly, birthdays are the most popular type of celebration, but we provide party rentals to all types of private and public celebrations including weddings, holiday parties, reunions, sports teams events, adoptions, and so many more.  If there's a celebration, we have something special to enhance the experience and make it memorable.  Peer inside to see the wide variety of party rentals we have for children's birthday parties, teen parties and adult parties.
The Ultimate in Interactive Attractions: Meltdown!
This ultra-challenging game makes you pay for your bad timing and weak jumping skills with a quick swing of its boom logs.  Jump over or duck under the booms as it spins one way, then reverses direction leaving players 'wiped out' on the inflated floor.
Great game for teens and adults, players either jump or squat to keep from being hit by the moving logs. Create teams for ultimate fun!
Mini Golf Rentals
9-hole mini golf is great fun for all ages and skill level.  These are the highest quality found in a portable set. Contoured holes with bumps and obstacles will test your putt-putt ability.  Includes 3 sizes of clubs, colored balls and scorecards with pencils.  Need a full 18 holes?  Call us to check availability.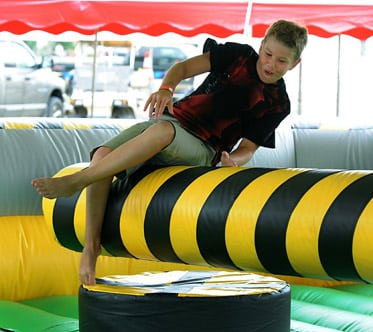 Interactive Game Rentals
Challenge your friends and co-workers to a race, a competition or a fun time.  These inflatable games allow adults to play as well as kids.  They are perfect for team building activities, grad parties, school events and picnics.  Try the Meltdown, an exciting inflatable to makes you avoid the rotating booms.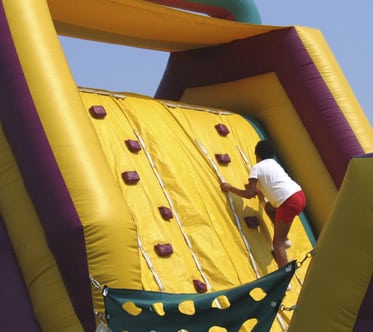 Obstacle Course Rentals
High throughput is a big reason why these and inflatable slides make excellent rentals.  What is throughput?  It is how many people can experience the thrill of completing the challenges of the inflatable.  High-throughput games are great choices for large events.
Bouncer & Combo Rentals
Bounce houses are the classic inflatable rental and we've got over 70 styles to choose from and match your theme. Most come with a basketball hoop. Or, step up to a Combo Bounce House. Combos get their name from being a "combination" of the popular bounce house and includes an attached slide.
Water Slide Rentals
Nothing says "FUN" like slip-sliding down one of Merry Makers water slides! Our combination bounce & slide water rentals are designed for safety while wet. The 22 foot tall Tropical Water Slide extends the fun with an attached slip and slide. Or, suds up and enjoy the mountain of bubbles with our foam party rental.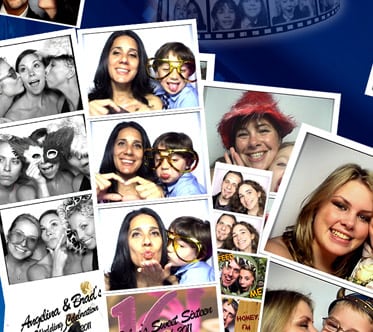 Photo Fun Rentals
Photo booth rentals are very popular, but our photo units stand out as being different and more interactive. All photo booths give you a photo, but these offer a variety of fun ways to embellish that photo resulting in a unique and personal souvenir of your experience.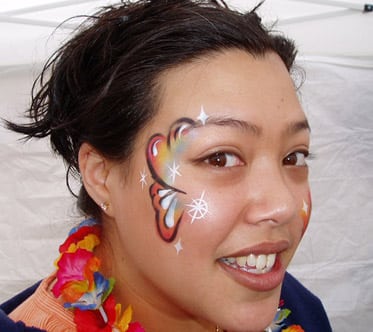 Face Painting & Performers
Performers bring their own type of pizzazz which compliments and enhances your party equipment rentals.  Merry Makers began as performers and will continue to seek out the top talent in the NW.  Our most popular request is for Airbrush Face Painting.  We paint almost 20,000 faces at the Washington State Fair each year.
Game Rentals
A winner every time! You have an event, we have a game for it. Choose from our collection of carnival game rentals, lawn games, and over-sized games to deliver that extra pop for your party.  Add a red and white carnival canopy to the game and it becomes an instant party. Rent one or rent them all and create your own carnival midway!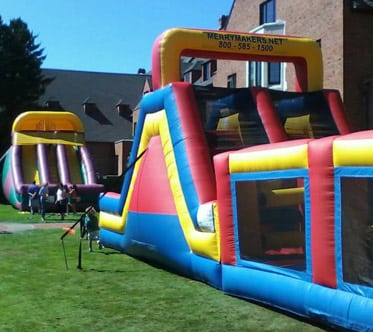 Event Packages
Once we get an understanding of your event and what you'd like to see happen, we can offer recommendations on which items will suit your desired outcome.  There is no 'one way' to do events as we service events with a few people up to thousands.
See What Our Customers Have to Say…
"The staff that came to our event was very personable. The kids at the event had so much fun with them. For me, I appreciated how low maintenance they were. I had complete confidence they had everything under control which made one less thing to worry about." - Katrina in Sea-Tac
"The Merry Makers Crew member that set up was great. He was engaged and encouraged students to participate. Excellent customer service! We will use Merry Makers again and again. " - University of Washington
"I have been a customer of Merry Makers for several years and have always been very happy with their customer service, their performers and face painters and this year was no exception. Our airbrush artist was wonderful. She took time with the kids and was very patient. Would love to have her at next year's company picnic! " - Danielle in Auburn
"This is the second year we have used Merry Makers for our company event. I appreciate the prompt, efficient service Merry Makers offers. Your products are clean and well maintained. Our monitor for the day was friendly, professional, and courteous." - Jody in Tacoma
"Thank you Merry Makers for making our company picnic a success two years in a row. We appreciate how easy it was to make arrangements and how helpful your staff was. Thanks again! " - Cindy in Bellevue
"We were completely satisfied with the promptness and friendliness of the Merry Maker's staff. Load in was a breeze and the inflatables proved to one of the most popular attractions at our family fun day event. This was the best experience I have had with an inflatable games company at an event. Thanks! " - Downtown Seattle Association
"You guys rock! The folks in the office were great! And special kudos to your delivery guy for the WONDERFUL job he did with the set up and take down. He has a great attitude and is someone I would want on my team at Trader Joe's! I can't wait to work with you all again! " - Trader Joes Seattle
"All interactions from original date of ordering, to confirmation call, to set up and take down demonstrated excellent customer service." - Kristi in Kent
"Had an amazing experience. I didn't have to worry about anything. " - Aida in Gig Harbor
"Everyone that I spoke to was super friendly and it was a very easy process. Our company party was a success. Thank you!" - Heather in Summer
Amuse. Create. Excite.
These three words are the source of our service and outlook.
Amuse: to provide interesting and enjoyable experiences.

Create: to bring into existence.

Excite: to cause strong feelings of enthusiasm and eagerness.
Our goal is to A.C.E. every event. That means we provide superior customer service, quality party rentals, and remarkable performers to give your guests a great experience — as they see it. Some people like to be amused. Some like to create social connections and invent new ways to play.  Then there are those who will enthusiastically dive in to be the first to try each thing.
You bring the people, we bring the fun!
Professional delivery from Tacoma to Seattle, including Lakewood, Federal Way, Puyallup, Auburn, Renton, Kent, Bellevue, Gig Harbor, Seattle, and Tacoma Washington.
If you are looking to rent high quality bounce houses, water slides, or other types of inflatable rentals for your next party or event, then you've come to the right place. We specialize in inflatable rentals and would be honored to deliver our equipment to your next event. Our strong desire for high quality service will not go unnoticed.